The Contemporary China Research Center (Department of Sociology) co-organized an International Conference on "Heritage Conservation Along the Belt and Road Zones: Between Politics and Professionalism" with the Department of Social Science, The Hang Seng University of Hong Kong on 23-24 October 2020. The conference was supported by a grant under the Inter-Institutional Development Scheme (IIDS) administered by the Research Grants Council of the Hong Kong Special Administrative Region.
Date: November, 1. 2020
The conference featured two keynote speech sessions by distinguished scholars in heritage conservation, namely, Prof Tim Winter (University of Western Australia) and Mr Tim Williams (University College London). In addition, there were 5 panel sessions that brought together 17 scholars in the field of heritage studies to share their research on heritage conservation.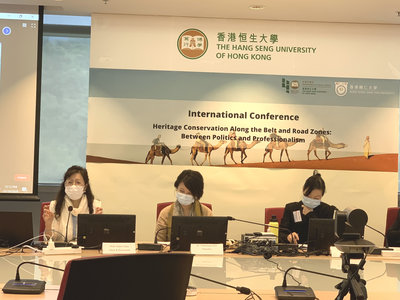 Professor Selina Chan represented Hong Kong Shue Yan University to give Welcome Remarks and also chaired a panel session, while Dr. Hui Yew-Foong was a co-convener of the conference and chaired two of the panels. Dr. Veronica Mak participated as a panelist and presented a paper.